Softline Holding plc began trading under the brand name Noventiq after divesting part of its business in October 2022.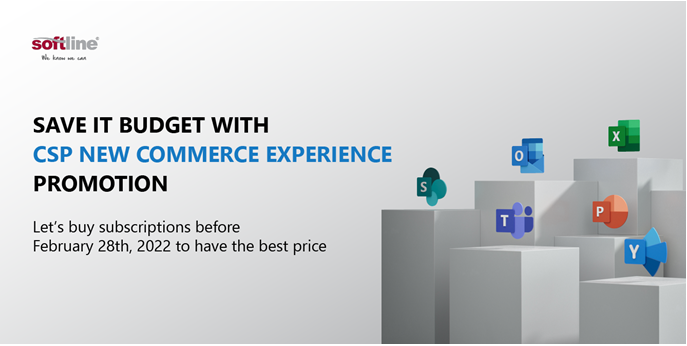 Dear Valued Customer,
As mentioned, Microsoft will be officially increasing prices globally for most of its commercial Office 365 and Microsoft 365, which will take effect on March 1st, 2022, on average +15% (depending on the SKU)(1).
Let's make the most of the greatest deal with the CSP New Commerce Experience(2) promotion to avoid price increases. You have 2 offers:
Annual offer promotion(3)

Monthly offer promotion(5)

Softline recommends buying in 1-YEAR of 3-YEAR subscription before 28.02.2022 to optimize costs

Discount versus legacy price

5%

16.7%

Period

January 10th,2022– March 31st, 2022 (4)

January 10th , 2022 – June 30th, 2022(5)
Share us your purchase plan at HERE
Note:
(1). Find detailed Microsoft's new prices in this link.
(2). New Commerce Experience is a multi-phase, long-term investment in the CSP program, which aims to reduce complexity, give customers more, and provide cost savings for a longer-term commitment.
(3). The price will remain the same if customers buy 12-month or 36-month subscription through the NCE. Therefore, this promotion will help businesses optimize costs and save 5% of the budget.
(4). From March 1, 2022, the discount will apply on the new price.
(5). The price will increase by 20% on average if customers buy the 1-month subscription through the NCE channel. Therefore, this promotion will help businesses avoid the price increase if the customers buy subscription before February 28, 2022.
Let's take this chance to save your IT budget before 28th Feb 2022!
Contact Softline to get the best quotation!