Softline Holding plc began trading under the brand name Noventiq after divesting part of its business in October 2022.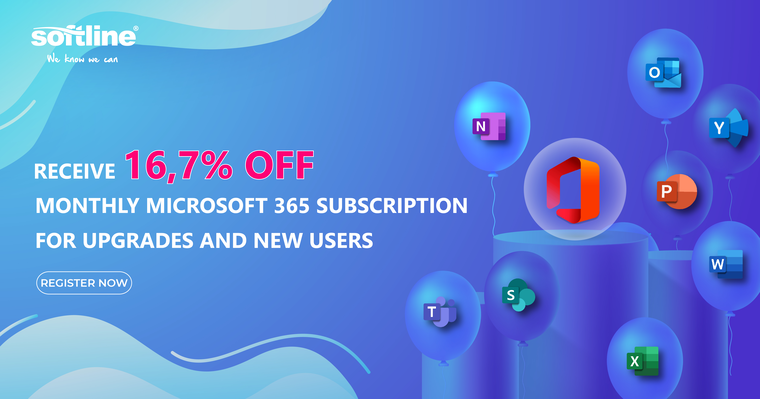 Dear Customer,
Softline would like to inform you about the latest Microsoft promotion program applied to products in the Microsoft 365 package, in order to support you to access premium Microsoft solutions to optimize workplace productivity, reduce operating costs, and ensure comprehensive data security.
The details of the promotion program are as follows:
From October 1, 2022, customers who purchase Microsoft 365 products as a monthly package through the New Commerce Experience(1) (NCE) channel will receive a 16.7% discount(2).
There are two types of customers eligible for this promotion:
New Customers purchasing Microsoft 365 for the first time: This offer will help you save significant costs right from the first purchase, and at the same time give your business flexibility in the plan to increase/decrease the number of licenses, and optimize cash flow thanks to the monthly payment contract.
Existing Customers upgrading to a more premium product and/or expanding their product portfolio: This offer is intended to support customers who are using Microsoft 365 Business Basic/Standard and plan to upgrade to Microsoft 365 Business Premium or purchase additional Microsoft Defender for Business to enhance data security and improve work efficiency.
Eligible customers receive 16.7% off the NCE Monthly Commitment price for the following products:
Microsoft 365 Business Basic
Microsoft 365 Business Standard
Microsoft 365 Business Premium
Microsoft 365 Apps for Business
Microsoft Teams Essentials
Microsoft Defender for Business
Promotion valid between Oct 1st and Dec 31st, 2022.
This is an opportunity for businesses to optimize their IT budget and get started right away with Microsoft's solutions to optimize productivity, cut operating costs, and enhance security.
Submit your purchase plan HERE.
Contact Info:
T: +95 1 934 5065 /66 / 67/ 68 Ext : 1100, 1116
Attention:
(1) New Commerce Experience (NCE) is a new platform experience that Microsoft designed to give you more choices and flexibility in how you purchase, and it is a program to help customers save money with long-term commitments.
(2) This offer does not apply to Microsoft 365 products that customers have been using before the effective date of the offer.
Contact Softline for offers and discounts!